The Susan B. Anthony Dollar was introduced in 1979, as the first modern small sized dollar coin. Additional production only took place in 1980, 1981, and in 1999, following an eighteen year gap. Despite the limited extent of the series, it represented an important transformational step for the highest denomination of contemporary American coinage. This site will provide historical information about the Susan B. Anthony Dollars, including the first production strike and release into circulation, complete mintage data, and details of each release of the series.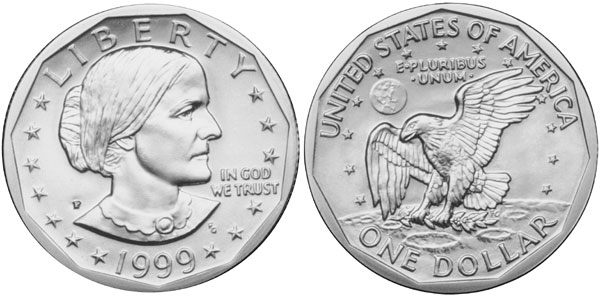 President Carter signed the Susan B. Anthony Dollar Coin Act into law in October 1978, which authorized the creation of the new dollar coin series. The obverse would feature a portrait of Susan B. Anthony, a famous figure in the women's rights movement in the 19th century. The United States Mint's Chief Engraver Frank Gasparro created the design based on plate that appeared in the 1881 six volume set History of Woman Suffrage. The word LIBERTY appears above the portrait, with thirteen stars are surrounding, configured seven to the right and six to the left.  The motto IN GOD WE TRUST is in the right field with the date is below.
The reverse features the same design that was used for the previous Eisenhower Dollar series, but in a smaller format. The design was based on the Apollo 11 mission insignia and features an eagle flying landing on the moon with an olive branch in its claws. Thirteen stars circle the eagle, and the earth as seen from the space appears in the background. The inscription UNITED STATES OF AMERICA appears above, with E PLURIBUS UNUM below. The denomination, spelled as ONE DOLLAR, is covering the lower part of the moon.
A complete set of circulating and proof Susan B. Anthony Dollars includes fifteen coins. If the 1979-P "narrow rim" and "wide rim" coins and the "type 1" and "type 2" 1979-S and 1981-S proof coins are included, the size of the set rises to eighteen. The most valuable coins of the series are the low mintage 1981 circulation strikes and the scarce type 2 proof varieties.