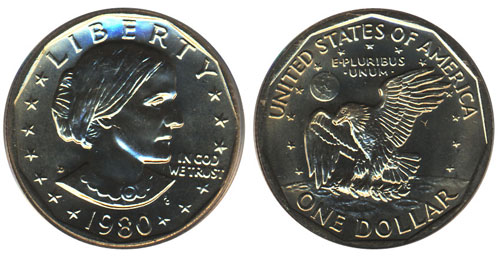 The 1980 Susan B. Anthony Dollar saw its production scaled back significantly from the massive number of coins produced in the prior year. The combined total mintage for circulation fell from more than 750 million to less than 90 million. The reduced production was due to the fact that the coins were not popular in circulation, so there was little need to continue producing them in such large numbers.
Once again, all thee US Mint facilities at Philadelphia, Denver, and San Francisco produced coins for circulation. The lowest mintage circulation issue for the year was the 1980-S Anthony Dollar with 20,422,000 produced.
Collectible proof versions of the Susan B. Anthony Dollar were also struck at the San Francisco Mint. Like other modern proof coins, these pieces were struck through a specialized minting process which created sharply struck coins with mirrored backgrounds and frosted design elements.