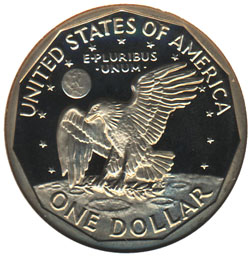 The Susan B Anthony Dollar was struck on planchets with an outer layer of copper nickel (75% copper and 25% nickel) and an inner core of pure copper. The coins weigh 8.1 grams and have a diameter of 26.5 mm. All pieces are struck with a reeded edge.
The diameter of the coins is situated between that of the quarter dollar (24.3 mm) and half dollar (30.6 mm). Confusion with these denominations is often cited as the reason the coins did not achieve widespread circulation.
Mintmarks are used for all issues of the series. The mint mark location is found on the obverse, in the left field next to Ms. Anthony's neck.
Circulating coins were produced at Philadelphia, Denver, and San Francisco Mints. Susan B. Anthony Dollar proof coins were struck at the San Francisco Mint from 1979 to 1981, and at the Philadelphia Mint in 1999.
Coin Specifications
Dates: 1979-1981, 1999
Mint Mark: P (Philadelphia), D (Denver), S ( San Francisco)
Composition: 91.67% copper, 8.33% nickel
Weight: 8.10 grams
Diameter: 26.50 mm
Edge: Reeded
Designer: Frank Gasparro