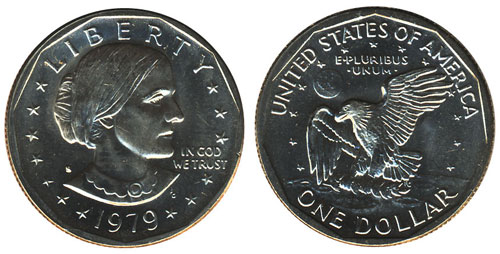 The 1979 Susan B. Anthony Dollar was the first year of mintage for the new small sized dollar coin. The release coincided with various promotional efforts on behalf of the United States Mint. The coin was called "the dollar of the future" and some of the benefits enumerated included the fact that it "won't blow away" like paper dollars and that it was "quick to identify". The later claim would be widely denied by the public, who confused the coin with the quarter dollar in circulation.
The Mint facilities at Philadelphia, Denver, and San Francisco undertook massive production of the new Susan B. Anthony Dollars. According to statements from the US Mint, over 500 million coins would be produced before the official circulation release date of July 2, 1979. By the end of the year, more than 750 million of the 1979-dated coins were produced at the three facilities.
There are two varieties for the 1979-P. The so-called "narrow rim" coin has the date further away from the rim than the "wide rim" coin. The Wide Rim is considered the scarcer variety, especially in higher grades.
There are also two varieties for the 1979-S Proof Susan B Anthony Dollar, which were included in the 1979 Proof Set issued for collectors.  The so-called Type 1 variety has the "S" mintmark appear filled, while the Type 2 variety has a clear "S". The Type 2 is the scarcer variety with an estimated 400 to 500 thousand pieces minted.