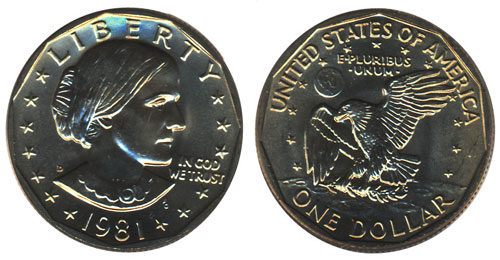 The lowest mintage circulation strikes for the series were the 1981 Susan B. Anthony Dollars. These coins are generally considered to be the key dates of the series, although they remain somewhat readily available for collectors.
This year, the Susan B. Anthony Dollars were not struck for circulation, however a limited number of coins were produced at the Philadelphia, Denver, and San Francisco Mints for inclusion in the 1981 Mint Set and some individually issued souvenir sets. The mintages for the circulation strike coins ranged from 3,000,000 to 3,492,000.
Production had been curtailed due to the predominantly negative response of the public to the new small sized dollar coin. Because of the similar size, weight, and color to the quarter, the coins were often confused in circulation. Many vendors eventually did not accept the coins. With a stockpile of more than 800 million coins residing within Federal Reserve Bank vaults, there was little need to produce more.
The 1981-S Proof Susan B. Anthony Dollar was produced for inclusion in the annual proof set. Similar to the situation for the 1979 Susan B. Anthony Dollar, two varieties exist for the proof coins. The "S" mint mark on the Type 1 variety is clear and rounded, while the mint mark for the Type 2 variety is clear and flat with rounder serifs. The Type 2 is the scarcer variety with an estimated mintage of 330,000.