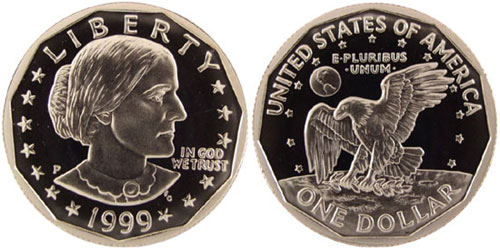 The 1999 Susan B. Anthony Dollar was an unexpected coin. The series had only been produced for three years before apparently concluding back in 1981. The similarity in size and appearance with the quarter had confused the public and prevented any widespread circulation.
After 18 years, the hoards of Susan B Anthony Dollars remaining from the heavy production in 1979 and 1980 had finally dwindled. Increased use of the dollar coins in vending machines had slowly worked away the surplus. With the recently approved Sacagawea Dollar still one year away, one final year of SBA Dollars were produced. This represented the longest gap between two dates in the same series in the history of U.S. coinage.
The Philadelphia and Denver Mints produced coins for circulation in quantities of 25,592,000 and 11,776,000, respectively. The coins were also made available to collectors through several products. The US Mint offered the 1999 Susan B. Anthony Dollar Uncirculated Coin Set, which included one circulation strike coin each from the Philadelphia and Denver Mints. Special mint sewn bags were also available, priced at a premium to face value.
The US Mint also struck the 1999 Proof Susan B. Anthony Dollar. The collector coin had a final mintage of 750,000 pieces, which were sold individually. Interestingly, these proof coins were struck at the Philadelphia Mint and carried the "P" mint mark. From 1968 to date, all proof versions of circulating coins had been struck at the San Francisco Mint.