In addition to the coins struck for circulation, the San Francisco Mint also struck the Susan B. Anthony Dollar in proof format for collectors. These coins are produced through a specialized process which involves striking the coins multiple times with specially prepared dies. This results in sharp relief and a deep cameo effect, with mirrored backgrounds and frosted design elements. For the initial three years of the series, these proof coins were issued only within the annual proof sets.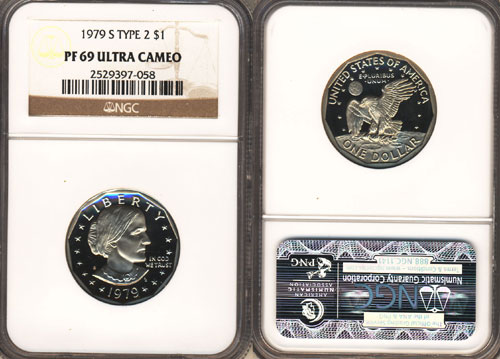 The 1979-S Proof Susan B. Anthony Dollar (Buy on eBay) caused a stir within the collecting community when it was discovered that two different varieties of the "S" mint mark were used for the coins. The "Type 1″ variety for this year features a mint mark which appears to be filled. The "Type 2″ variety has a mint mark which is typically clear and shows a rounded top and bottom. The major third party grading services PCGS and NGC will designate the type of the coin on the holder.
The Type 2 variety is the scarcer of the two and commands a premium. From an overall mintage of 3,677,175 proofs, it is estimated that 400,000 to 500,000 of these carry the Type 2 or clear mint mark.
Coin Specifications
Date: 1979
Mint Mark: S (San Francisco)
Mintage: 3,677,175
Composition: 91.67% copper, 8.33% nickel
Diameter: 26.5 mm
Weight: 22.68 grams

< 1979 Susan B. Anthony | 1980 Susan B. Anthony >