The 1980-S Proof Susan B. Anthony Dollar (Buy on eBay) was struck by the San Francisco Mint for inclusion within the 1980 Proof Set. These sets represented the latest release of an annual traditional offering from the United States Mint for collectors seeking high quality examples of each of the year's coins. The sets were originally priced at $10 each and sold a total of 3,554,806 units, which is also the mintage for the individual coins included in the sets.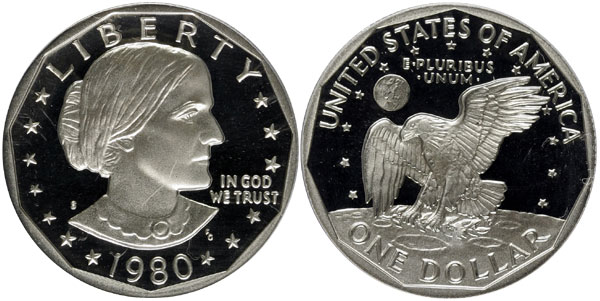 Presently, the 1980 Proof Set can be acquired for less than the original issue price. These sets provide a ready source for gem proof examples of the Susan B. Anthony Dollar. The coins will typically display a deep cameo contrast, although may sometimes exhibit hazy or cloudy toning from improper storage.
High end collectors will typically seek out coins encapsulated and graded by PCGS or NGC. Many coins have graded near perfect at PR69DCAM or PF 69 Ultra Cameo, and these remain affordable. The highest graded coins at PR70DCAM or PF 70 Ultra Cameo will command a premium and are in demand from those seeking perfection on the grading scale.
Coin Specifications
Date: 1980
Mint Mark: S (San Francisco)
Mintage: 3,554,806
Composition: 91.67% copper, 8.33% nickel
Diameter: 26.5 mm
Weight: 22.68 grams

< 1980 Susan B. Anthony | 1981 Susan B. Anthony >