In addition to the circulating quality coin issued in the annual Mint Set, the San Francisco Mint also struck proof quality Susan B. Anthony Dollars for inclusion within the annual proof set. The 1981 Proof Set, which also contained proof versions of the cent, nickel, dime, quarter, half dollar, was originally priced at $11 per set. Currently, the set is valued below its original issue price.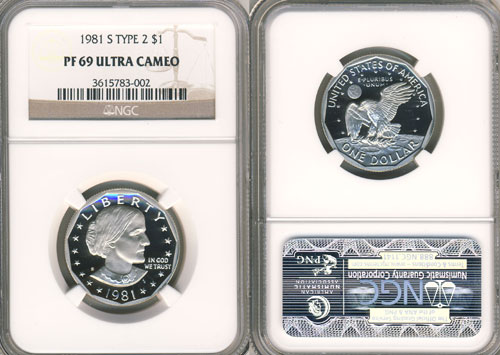 Similar to the situation in 1979, the 1981-S Proof Susan B. Anthony Dollar (Buy on eBay) can be found with two different mint mark varieties. The "Type 1″ variety is the more common and carries a clear and more compact mark. The scarcer "Type 2″ variety has a mark which is flat with rounded serifs. When examples of the coin are certified by PCGS or NGC, the Type will be included on the holder.
From an overall mintage of 4,063,083 pieces, it has been estimated that 330,000 coins carry the Type 2 mint mark. As such, this variety carries a strong premium whether certified or uncertified. When purchasing an uncertified coin, care should be taken in making certain of the identification.
Coin Specifications
Date: 1981
Mint Marks: S (San Francisco)
Mintage: 4,063,083
Composition: 91.67% copper, 8.33% nickel
Diameter: 26.5 mm
Weight: 22.68 grams

< 1981 Susan B. Anthony | 1999 Susan B. Anthony >