In order to ensure the uninterrupted availability of dollar coins for circulation, the United States Mint resumed the Susan B. Anthony series after a gap of nearly 20 years. Coins were struck in circulating quality for distribution to the channels of circulation and for inclusion within certain numismatic products. The U.S. Mint also struck the 1999 Proof Susan B. Anthony Dollar (Buy on eBay) for individual sale to collectors.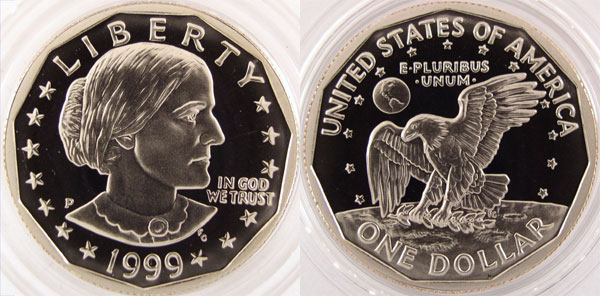 These proof coins were struck at the Philadelphia Mint and carried the "P" mint mark. This differed from the other proof versions of circulation coins issued for the year, which were all struck at San Francisco and carried the "S" mint mark. The Anthony Dollar proofs were not included in the 1999 Proof Set, but were offered separately starting in the fall. Each coin was packaged in an individual box containing a certificate of authenticity. The coins were priced at $8.95 each, with total production of 750,000.
Sales for this product continued through the close of 1999 and for the next several years until the entire mintage had been sold. Despite the extended period of availability, the coins quickly garnered a premium after they were no longer available from the Mint. This issue represents the lowest mintage proof for the short lived series.
Coin Specifications
Date: 1999
Mint Marks: P (Philadelphia)
Mintage: 750,000
Composition: 91.67% copper, 8.33% nickel
Diameter: 26.5 mm
Weight: 22.68 grams