After just two years, the United States Mint ceased production of the Susan B. Anthony Dollar for circulation. Over the course of the initial two years of the series, there had been more than 800 million of the new small sized dollars struck. This amount proved more than sufficient to fulfill the limited demand from circulation and stockpiles of the coins would linger in Treasury vaults for nearly two decades.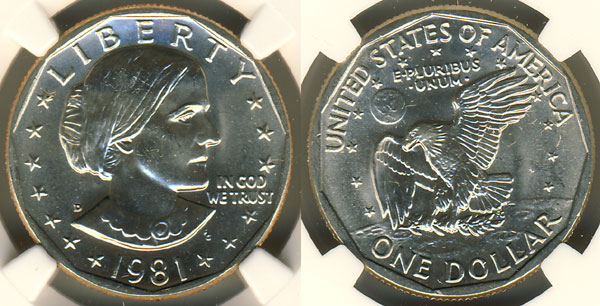 The 1981 Susan B. Anthony Dollars (Buy on eBay) were struck only for inclusion within the annual collector sets offered by the United States Mint. The circulating quality versions were included in the 1981 Mint Set, which also included examples of the cent, nickel, dime, quarter, and half dollars. These sets were originally offered at $11 each and have held their value due to the key date status of the dollar coins. The total distribution of the dollar coins through these sets was 2,908,145.
Collectors seeking high grade certified examples of the coins will find a conditional rarity in the 1981-S. These coins are typically encountered with weak strikes and frequent contact marks and abrasions which preclude higher grades. Only a handful have been as MS67 by either PCGS or NGC.
Coin Specifications
Date: 1981
Mint Marks: P (Philadelphia), D (Denver), S (San Francisco)
Mintage: 3,000,000 (Philadelphia), 3,250,000 (Denver), 3,492,000 (San Francisco)
Composition: 91.67% copper, 8.33% nickel
Diameter: 26.5 mm
Weight: 22.68 grams

< 1980 Susan B. Anthony | 1981-S Proof Susan B. Anthony >