For the second year of the series, production levels for circulation were significantly reduced. Despite promotional efforts on behalf of the United States Mint, the new small sized dollar coins failed to gain traction within circulation. Many found the coins to be too commonly confused with the quarter due to the similar size and most people were more familiar with the paper dollars which continued to circulate.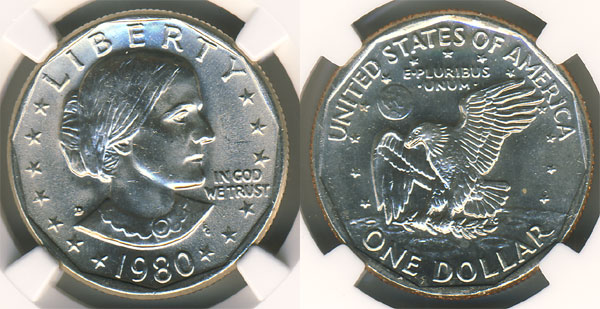 The 1980 Susan B. Anthony Dollar (Buy on eBay) had a combined mintage of fewer than 80 million pieces across three different mint facilities. Once again, the Philadelphia, Denver, and San Francisco Mint each struck the coins for circulation. The coins were also included in the 1980 Mint Set as well as Souvenir Sets issued by the mints. These products continue to be a source of these coins in uncirculated condition.
Premiums do exist for certified examples of the coins in the highest grades. For all three issues, values exceed the cost of certification for coins graded MS66 or higher. The most conditionally challenging coin is the 1980-S, which drives the highest premium at the MS67 grade level. A few 1980-P coins have been graded at MS68.
Coin Specifications
Date: 1980
Mint Marks: P (Philadelphia), D (Denver), S (San Francisco)
Mintage: 27,610,000 (Philadelphia), 41,628,708 (Denver), 20,422,000 (San Francisco)
Composition: 91.67% copper, 8.33% nickel
Diameter: 26.5 mm
Weight: 22.68 grams

< 1979-S Proof Susan B. Anthony | 1980-S Proof Susan B. Anthony >