The United States Mint introduced their second modern series of dollar coins in 1979. The previous Eisenhower Dollar series had been produced with the same diameter as the classic silver dollars, but struck in copper-nickel clad composition. The coins had proven too bulky for everyday commerce and were rarely used in circulation. The new series would see a significantly reduced diameter and concerted efforts to promote use of the coins with the general public.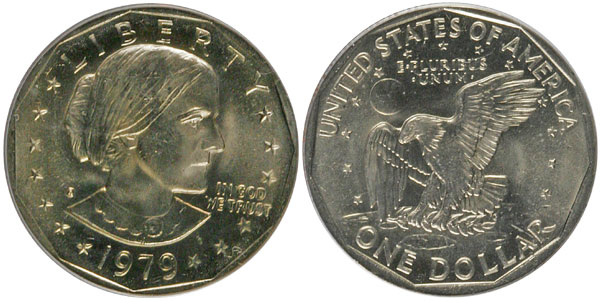 The 1979 Susan B. Anthony Dollar (Buy on eBay) featured a portrait of the famous figure from the women's rights movement in the 19th century. The reverse design featured the same design as the prior series, which was based on the Apollo 11 mission insignia and depicted an eagle landing on the moon with an olive branch. Both sides of the coin included an 11-sided border to help differentiate the denomination.
For this first year of issue, production for circulation took place in large numbers at the Philadelphia, Denver, and San Francisco Mint in anticipation of widespread use in commerce. Across all three facilities more than 750 million coins were produced. The official circulation release date was July 2, 1979. The coins with the "P" and "D" mint marks were placed within the 1979 Mint Set.
The Philadelphia issue has two different varieties identified as "Narrow Rim" or "Wide Rim". The coins with the narrow rim will show the date of the coin close to the rim, while the wide rim will show the date farther away. The "Wide Rim" variety carries a premium.

Date: 1979
Mint Marks: P, D, S
Mintage: 360,222,000 (Philadelphia), 288,015,744 (Denver), 109,576,000 (San Francisco)
Composition: 91.67% copper, 8.33% nickel
Diameter: 26.5 mm
Weight: 22.68 grams