The first production strike of Susan B. Anthony Dollars took place at the Philadelphia Mint on December 13, 1978. The Director of the Mint, Stella B. Hackel, was joined by members of Congress, Treasury Department and Federal Reserve officials, and the news media for the event.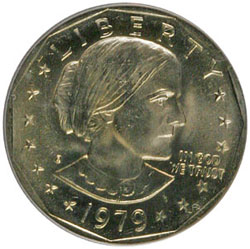 The authorizing legislation for the coin had been passed by Congress on September 26, 1978, and President Jimmy Carter signed the bill into law on October 10, 1978. On the day he signed the bill, he said that the new dollar coin would be "a constant reminder of the continuing struggle for the equality of all Americans."
At the first strike ceremony, Mint Director Hackel remarked favorably on the prospects for the new Susan B. Anthony Dollar in commerce. She noted that the prior Eisenhower Dollar had limited usefulness because of its size and weight. The Anthony Dollar was sized between the quarter and half dollar and weighed one third as much as four quarters. She said, "The size and weight were selected so the new coin would be more convenient and easy to use."
The Susan B. Anthony Dollar would also have an eleven sided inner border, allowing the coin to be differentiated by touch.
If widespread circulation took place, there would be potential cost savings to the government. At the time, the new coins cost about three cents to produce, compared to eight cents for the prior large sized dollar. Also, the dollar coins had an expected lifespan of 15 years or more, compared to a lifespan of only 18 months for the dollar bill.
Despite high hopes for the new series, widespread use of the Susan B. Anthony Dollar did not take place. Americans found the coin too easily confused with the quarter dollar. After just two years, production of the new dollar coin for circulation was halted.