Production of the Susan B. Anthony Dollar was resumed after an 18 year hiatus. This represented the longest gap in production for a U.S. coin series in history, exceeding the 17 year gap that had occurred for the Morgan Dollar series.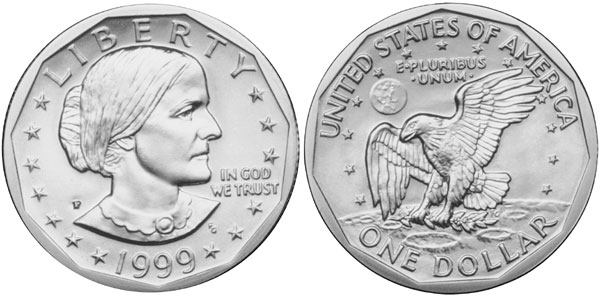 The United States Mint announced the unusual move on May 20, 1999 which was necessary to ensure the availability of dollar coins for circulation until the launch of the Sacagawea Dollar in the following year. Apparently, the entire stockpile of coins that had been produced in 1979 and 1980 had finally been exhausted due to increased demand from mass transit authorities and vending operations.
The 1999 Susan B. Anthony Dollar (Buy on eBay) was struck for circulation at both the Philadelphia and Denver Mint. Production across both facilities reached a little over 40 million pieces.
The resumption of the series after the long hiatus generated some excitement with collectors and the U.S. Mint provided several options for purchasing the coins. In the fall of that year, the 1999-dated dollar coins from either the Philadelphia or Denver Mint were made available in 25-coin bags or 1,000-coin bags, priced at $35.50 and $1,095.00, respectively. A simple two coin uncirculated set was also offered, priced at $5.95 each. For this year, the Susan B. Anthony Dollars did not appear within the annual Mint Set.
Coin Specifications
Date: 1999
Mint Marks: P (Philadelphia), D (Denver)
Mintage: 29,592,000 (Philadelphia), 11,776,000 (Denver)
Composition: 91.67% copper, 8.33% nickel
Diameter: 26.5 mm
Weight: 22.68 grams

< 1981-S Proof Susan B. Anthony | 1999-P Proof Susan B. Anthony >